Thanks to
TREYYA

** Your Starcast for May 20 to June 19 **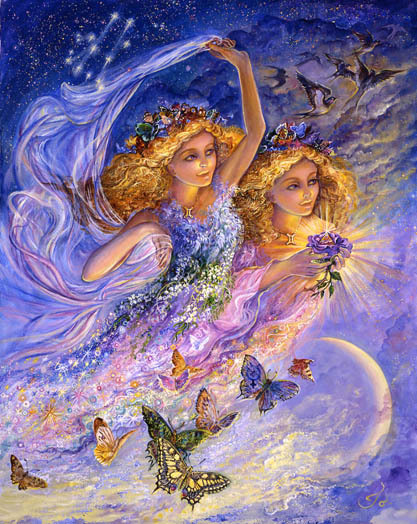 ..


It's time to explore, make new friends and catch up with old ones as the Sun begins its transit through social Gemini on May 20. Plan on an exciting month as Jupiter in ambitious Capricorn sextiles independent Uranus on May 21, offering you plenty of opportunity to break out of routines. A good conversation turns the key to your heart now, so attend events where you'll meet interesting people as love planet Venus enters Gemini on May 24. Then, keep alert and expect delays and misunderstandings as Mercury, the planet of communication, and mystical Neptune turn retrograde on the same day -- May 26! The new Moon in Gemini on June 3 will keep your mind extra busy. By June 13, Pluto retrogrades back into belief-driven Sagittarius, and with both Gemini and Sag energy prominent, no one will be at a loss for words! Intensity and power issues ratchet up, so let go of beliefs that don't serve you. This may be the most helpful thing you can do during this review, which lasts until November 26, 2008. Then the mood shifts partially with Venus entering homebody Cancer on June 18. And you'd probably stay there if it weren't for the full Moon in Sagittarius also on June 18, which urges you to get out of the house. We end this solar period with Mercury's change in direction on June 19, when Mercury turns direct. Even with all of the shifts and turns this month, communication becomes less confusing now, and you find it easier to make decisions....

May 20: Sun enters Gemini

Each year as the Sun transits through this premiere communication sign, news, information and stimulating conversations spice up your life. Air signs are quite social and are known for their friendliness, making this a great time to meet new people, attend events and go to parties.


Why not start a book or film club? Or, do you have an idea for a blog? Use the need to learn to bring excitement into your life!

May 21: Jupiter sextile Uranus

This is a very hopeful and optimistic aspect! Jupiter and Saturn represent social trends while the outer three planets (Uranus, Neptune and Pluto) symbolize collective trends. When social and collective planets meet, the larger landscape shifts. Jupiter in ambitious Capricorn forming an exciting sextile to independent Uranus offers you plenty of opportunities to break out of your routines and experiment with new ways to produce income. It's also a perfect time to join up with groups, associations or organizations with like-minded people. You have the desire to achieve something substantial, but you want it to be fresh, creative and innovative....

May 24: Venus enters Gemini

When the planet of love enters curious and talkative Gemini each year, it's time to get out of the house, meet new people and have exciting experiences. Your greatest fear now is boredom! If you're presently in a relationship, grab your mate and get out of your day-to-day routines. It's time to mix things up. If you're single, this is a terrific time to join a dating service or attend events where you'll meet interesting people....

May 26: Mercury turns Retrograde

Mercury entered its own sign Gemini on May 2, and now turns retrograde in this sign, giving you time to review everything on your mind! Your tendency is to split your attention in too many directions, and while it's important to review during any Mercury retrograde period, you can help yourself by writing a list of all of your ideas. You won't be able to make up your mind yet, but this is a great time to loop back to old ideas, conversation and agreements to assess which ones are worth keeping and which ones need tweaking. When Mercury turns direct on June 19, you'll have greater clarity....

May 26: Neptune turns retrograde

Neptune retrogrades once a year for several months (this time until November 1), making this a time to re-visit your dreams, goals and ideals. This retrograde takes place in the same part of your chart for many years, giving you a chance to establish a solid foundation for your life achievements. Because Neptune represents larger trends, your personal ideals will align with a universal perspective. Neptune has been transiting through Aquarius since 1998, a sign that represents the quest for a better life, freedom, equality, peace and contentment. For greater insight, examine which house in your own chart the yearly retrograde in Aquarius is occurring in....

June 3: New Moon in Gemini

You may feel like your mind is a chatterbox with this information-packed new Moon! A new Moon always marks a new beginning and in this messenger-sign, you'll want to make sure you stay on top of all of the news, data and messages coming your way. Part of what makes this an interesting cycle is that Mercury -- Gemini's ruling planet -- is retrograde. So, even though part of this month you may feel like you're spinning your wheels, there's information to be gone over carefully before you get your plans in forward gear...

This new Moon will most affect those born June 1-5, September 4-8, December 3-7 and March 2-6

June 7: Sun conjunct Mercury and June 8: Sun conjunct Venus

When mindful Mercury connects with the Sun, you receive information that will be useful to you later. Since Mercury is retrograde, now is the time to review all of the data. The Sun and Venus make a lovely conjunction the following day, and it pays to beautify your thoughts and projects.


Think of it as an anti-littering campaign for the mind!

June 7: Mercury conjunct Venus

When these two planets (of communication and relating) come together, conversations tend to be sweet. This is a great time to send a beautiful card to someone you love, make amends with a person you've upset, or go see an wonderfully romantic movie. And due to Mercury's retrograde status, expect to feel a bit of deja-vu...

June 12: Venus squares Uranus and June 13: Venus trines Neptune

When Venus, the planet of love, connects with Uranus, the freedom-loving planet, it's important that your relationships have room to breathe. This is a social time and you're likely to want a bit of excitement in your life. So get out of your old sleepy routines and do something different! Then, Venus trines dreamy Neptune and the yearning for spiritual love (Neptune) in personal love (Venus) is strong. This is a wonderfully imaginative, dreamy combo with beautiful thoughts and inspiring conversations...

June 12: Sun squares Uranus and June 14: Sun trines Neptune

Every now and then, the universe seems to do something to make sure we're awake! As the Sun in information-gathering Gemini meets the square from gotta-have-change Uranus, expect something out of the blue to jolt you out of your everyday routines. Then, the Sun trines spiritual Neptune, and a desire to give and the need to feel inspired are strong. What sparks you? Make time for it today...

June 13: Pluto re-enters Sagittarius

We all had a taste of times to come when Pluto's transit into Capricorn began on January 25. Now, as Pluto retrogrades back into Sagittarius -- a placement that intensifies people's beliefs and opinions -- we revisit old concerns, and everybody is likely to have plenty to say! Intensity and power issues ratchet up, and you may feel that there's a lot at stake.


Although this intensity can drive people to extremes, letting go of beliefs that don't serve you (or the world) are a part of this review, which will last until November 26

June 18: Venus enters Cancer

Enough chatting! As Venus leaves talkative Gemini and enters emotional Cancer, it's time to cozy-up and focus on your loved ones. Cook your sweetheart's favorite meal or make reservations at a wonderful restaurant. Plan a fun family activity or put a love letter in your mate's briefcase. Most importantly, see if you can dip into your feelings and give your mind a rest.


An open, loving heart brings rewards!

June 18: Full Moon in Sagittarius

A full Moon in the sign of the explorer brings restlessness, so get out of your comfort zone and out of the house! Naturally optimistic, Sag loves to discover anything new and different. Ordinarily, this would be a wonderful time to investigate the unknown, but with Pluto's recent re-entry into Sagittarius last week (which brings this powerful planet into a conjunction to this full Moon) you'll do well to pay attention to your immediate surroundings. Prepare for a lot of emotional discussions about favorite Sagittarian topics, such as ethics, religion and philosophies.


Choose your words carefully!

This full Moon will most affect those born December 25-29, March 16-20, June 16-20 and September 18-22

June 19: Mercury turns Direct

Ah, at last! Communication becomes less confusing and making decisions is no longer a battle. Ever since Mercury turned retrograde in its own sign Gemini on May 26, you've been spinning your wheels and going back over the same data and conversations. Now it's time to leave that hamster wheel behind and put everything you've learned into practice.


Sign those contracts, send out your resume or pick up the phone! The time is ripe to communicate all of your great ideas!

Enjoy the Sun's transit in Gemini!




..


** Astrolesson: Mercury in the Elements **

Mercury is the planet that rules communication, thoughts and perceptions. When you think, you are using your Mercury. Although everybody communicates and thinks, each person has a unique style that is represented by one of the 12 Sun signs. In addition to this, a person's natural method of communication also fits into one of the four elements: fire, earth, air and water....

Fire: 'I get what you're saying!'
Aries, Leo and Sagittarius are the three fire signs, and Mercury placed in any of these three signs will show a person to have strong powers of intuition who excels at thinking in symbolic terms. Enthusiasm is also a typical fire expression....

Earth: 'That makes sense.


'
Taurus, Virgo and Capricorn are the earth signs, and when Mercury is placed in any three of these Sun signs, you'll find a person whose mind operates in analytical, pragmatic ways. The earth element likes to connect the dots....

Air: 'I love that idea!'
Mercury has an affinity with the three air signs: Gemini, Libra and Aquarius. The air element operates easily through the mind and the natural sociability associated with this element is usually apparent in those who have strong placements in air....

Water: 'That feels right.


'
Cancer, Scorpio and Pisces are members of the water element, and when Mercury is positioned here, thoughts are strongly influenced by feelings....

Knowing which element an individual perceives through can help you effectively communicate your ideas and desires to them. For example, if your mate has his or her Mercury in earthy, deliberate Taurus, asking for a quick, spontaneous answer is likely to bring resistance. Instead, let your sweetie know that you don't need an answer right away and watch for the look of relief and appreciation....

In contrast, a Mercury-in-Gemini person will immediately have a number of ideas -- maybe more than you care to hear! When Mercury is in Cancer, that person will need to feel their way through what they think. They trust their gut feelings.


An Aries Mercury person excels at spontaneity, but whatever is said may not necessarily be what that person will think later!

Most people know their Sun signs. Knowing one's Mercury sign and those with whom you are close can give you important information.


After all, good communication is essential in any relationship! Astrology can give you that extra edge to improve communication in all of your relationships!